Last year was probably the most successful in his illustrious career in Belgium. Rumors spread on the streets of Antwerp, but Lior Refaelov waited patiently until he received the official announcement: Being voted player of the year, winning the Belgian Golden Shoe. An honor that only a few and greater than him have received in recent years. Fewer at 34 Years old. Without going into comparisons (at least at this stage of the interview), the picture is clear: Refaelov is one of the most impressive Israeli players in Europe at the moment. In a festive and exclusive interview for the Israeli Independence Day, he talks about the emotional moment of winning the trophies, the winning goal against Tottenham, and the question that everybody wan't to know: where will he play next season?
"You are taking me back three months, but it's hard to forget because it was a very emotional moment." He recall about the night he won the award. "The two and three weeks prior, when they did not reveal the winner's name, was a very stressful and tense period for me. I knew I was one of three candidates, but also that it was such an important title to win after so much time when one could receive it," he says. "The excitement was great and in the end it was the biggest achievement of my career, without a doubt."

When you arrived in Belgium you were not planning for it
"When I came here in the first season, there were players like Luis Suarez and Juvanovic, the top players in the world. I was at the ceremony in January 2012 and then I realized how important it is. When you are a kid, you dream. When I came here, it was a dream I wanted to fulfill. I was a standout player in Bruges, but over the years you also learn the league, people learn to appreciate you, and you meet more people. Being a steady performer over many years is a big part of this win."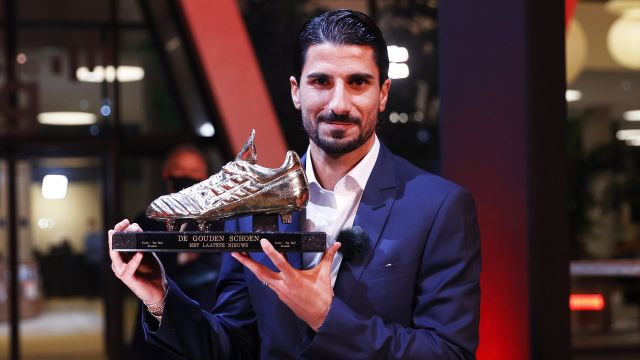 You received 271 votes – far more than Beerschot's Rafael Holtzauser (187 votes) and Paul Onuachu of Genk and the league's top scorer this season, who finished third with 86 votes. Did you think that the gap would be so great? "I was very surprised, to be honest. I thought the gap would be much narrower. It made me even happier, because apart from the title, the consensus around my selection was heartwarming. Journalists, captains, coaches and former winners voted for me, which makes the achievement more meaningful. Once captains and coaches choose you, you realize you have received feedback on what you are doing here. It further reinforces this win."

After seven years at Club Brugge, you moved to Antwerp in 2018. The best-remembered moment, is of course, was, of course, the winning goal in the Cup final. What is it like to score a winning goal in the final against your old team?

"This game was very special, for me, for Club Brugge and especially for Antwerp. Their last win against Anderlecht was with me when I scored the winning goal. Antwerp had not been in the final for many years. Add to that the fact that I played there for seven years. So everything was special. This win was the beginning of the Golden Shoe. I managed to do it with Bruges and Antwerp. Scoring the decisive goal twice in a final is not a trivial matter."

And there was another impressive achievement.
"Because I was the first in Belgian football to score in three consecutive finals. Unfortunately, once we failed to win in Bruges and we lost to Liege. It happened exactly one year after the first win, but as I mentioned, these figures made the game much more special. Everyone said Bruges had a better chance, so the achievement was even greater, certainly for such a club, which had been out of the premiere league for many years due to financial difficulties.Once the new president decided to invest in quality players, he put Antwerp in the top three in Belgian football. In the last three seasons we have been in the game. We have a very high quality staff, and every week, it shows. Things went awry when Leko left, because the style of play was 3:4:3 or 3:5:2. We trained intensively for several months and during that time everything became automatic, so that victory resulted when we put forth 60-70 percent effort. This method brought us the points. Leko received a very tempting offer of 2.5 million euros per season in Shanghai and had to leave in January. The newer coach is more defensively-oriented, with a different method of play. It changed what we built and it's a shame."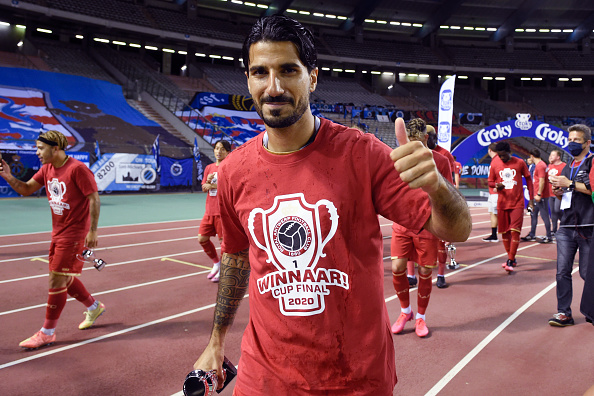 Elyaniv Barda had a great career, but did not win the Golden Shoe. Many say that due to this award you are certainly the greatest Israeli in Belgium. Do you agree?
"I prefer not to deal with it. There were great Israelis here, like Ohana and Rosenthal. They had great careers here and made their mark. They also opened the door for other Israelis. Breda was here and had amazing seasons at Genk, played six years at the club and not everyone can do that. A few more Israelis were here. Gershon and Kenny Saief had some good seasons. Shalom Tikva was here too. As an ambassador in a country like Belgium, with a large Jewish community, I realized that I represent not only myself, but my country and the Jewish community here in Belgium. There are a lot of Antwerp fans in the Jewish community. In Bruges many would come with flags to the stadium. It's heartwarming."

What do they think in Belgium about Eden Shamir and Yonas Malede?
"They're both at the beginning of their careers. We don't meet quite a lot. Gent is on one side, Liege elsewhere and Antwerp is in the middle. I invited them both to a Friday dinner at my house to get to know them better. I told them that I would be happy to help if needed, because it is difficult to acclimate at the beginning. They must be patient. The competition is very tough, the teams are strong, and patience is required. Don't be disappointed if you get fewer minutes of playing time, and if you are not included in the 18, do not be disappointed. There is great competition between 25 players in the squad. Don't take it to heart. They both have a good mental approach, and they can succeed here."

Let's go back for a moment to the winning goal against Tottenham, another one of the highlights. Mourinho could not stop talking about you.
"It started before the game. They asked him about the meeting and he mentioned me at length, my style of play and was very complimentary. Before that we played against Ludogorets and I was the standout with a winning goal in Bulgaria, which started things off on the right foot for us. We were all prepared for Tottenham at home. At that time, Tottenham was first in the Premier League and we knew what momentum they were bringing. On paper, every player there is better than ours. We knew that we could win only if we played as a team. We were very good, from the opening minute until the end of the game. It wasn't a game that revolved around one player. The team succeeded. I was glad that I was in the right place to be the finishing leg. Mourinho? He talked about me even afterwards. It's very exciting."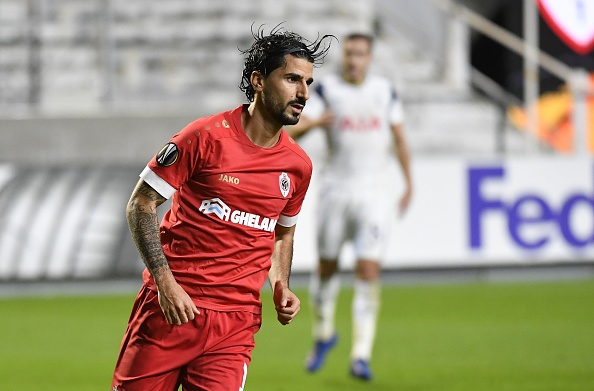 WATCH: Lior Refaelov winning goal against Tottenham

You also starred against Rangers, you were involved in all the goals, but you were eliminated. Are the gaps between the groups as great as the result?
"In both the first and second game we got two goals in the last five minutes where we tried to do 'All in'. It was after Leko left, and we had to adapt to a different setup, different philosophy and different ideas. Players have to make adjustments very quickly. For some it took a little longer."

Let's talk about the crazy incident with Didier Lamkel, which made headlines around the world. He came to your training grounds wearing an Anderlecht shirt. Was the team surprised? How did the media react?
"Leko transferred him to the reserve team in the first half of the year due to issues regarding his conduct. But there is no doubt regarding his abilities. He wanted to move to Pao with the previous coach and the club refused to release him, so he chose to make a scandal and came to the stadium with the shirt when he was not permitted to be there.. He was prohibited from being there, but Lamkel wanted to sabotage things, and in the end he did well. It happened exactly when Leko left. The new coach brought him back to us and he returned to the lineup. It was a crazy story. He's not one of the most intelligent players I've met, to put it mildly."
Sitting here this morning admiring the pettiness of Royal Antwerp forward Didier Lamkel Zé showing up to training in a rival Anderlecht shirt as he tries to force a move to Panathinaikos.

Of course they didn't let him in. pic.twitter.com/cp2mnHzIs8

— COPA90 (Copa90) January 6, 2021
Lets talk about the future. RSC Anderlecht and Club Brugge are after you. I understand it's a done deal.
Refaelov: "There is a 90 percent chance I will stay in Belgium, with one of the three strongest clubs. There are advanced negotiations, and hopefully they will conclude very soon."

Who are the three strongest clubs in Belgium?
Refaelov: "Anderlecht, Club Brugge and Antwerp"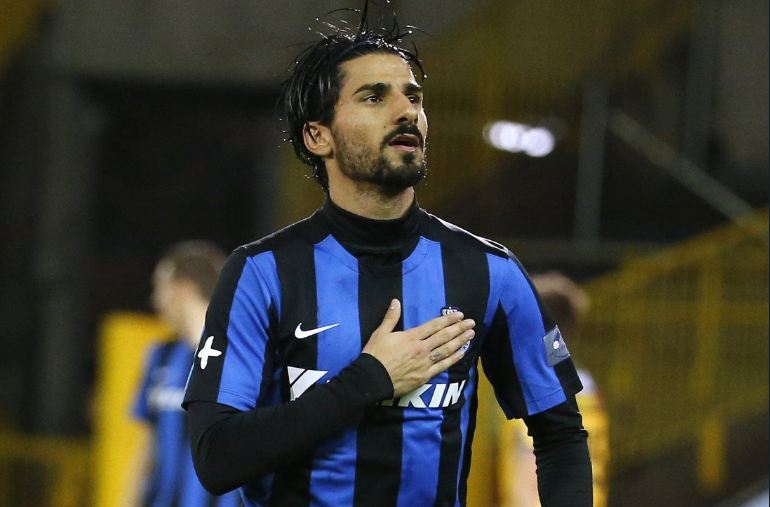 A smart answer. Do you follow Maccabi Haifa?
"I have not seen many games in Israel, but I follow the results. The race is very close between Maccabi Haifa and Maccabi Tel Aviv, it is a pity that Beer Sheva and Betar are not involved, which could have made it more interesting. Personally, I hope that Haifa will succeed. From my conversations with Rami Gershon, I understand that they have good ability, especially on the offensive end. They have an excellent coach and, of course, owners who have always strived for excellence. This interview is an opportunity to congratulate him on his 80th birthday. The owner personally called to congratulate me on winning the Golden Shoe. "

You had an offer from Maccabi Tel Aviv. Moshe Hogeg from beitar jerusalam was also interested.
"I was very skeptical about Maccabi Tel Aviv. "Dudu (Dahan, his agent) dealt with this. I really try to concentrate these days mainly on the present, and less on what will be another year or two. In the meantime things are going well. There was communication with Hogeg, but it did not get to specifics."